Life On Purpose.
People are absolutely amazing and people's STORIES are even more amazing! I truly believe that if you spend enough time talking to just about anyone, you will uncover an incredible and inspiring story. Save & Exit
This story is part of 1 In A Million Project. You can find out more & help us reach our goal of connecting 1 million women while raising $1 million at www.1inamillionproject.org
Here is today's 1 In A Million Spotlight Interview:
It's been a while since I shared a spotlight interview but I tell you – this one is worth waiting for!!
Tiffany Rauch is absolutely an incredible woman. The amount of loving, caring & giving things she juggles gracefully and with a heart full of love is astonishing.
So please grab a coffee & take a few minutes to sit & be inspired by this amazing Glamma Gramma's story.
It is my huge honor to introduce you to Tiffany Rauch:
PLEASE TWEET THIS:   
THEN WATCH THIS: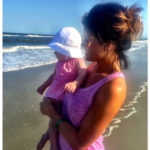 MORE ABOUT TIFFANY RAUCH:
I am a my-whole-life-lived in Montana girl who loves the beach!
I cannot stay away from water for very long.
I have a crazy fun husband, 9 children (6 bio and 3 bonus), 3 grandchildren and 3 more on the way. My favorite thing is my big, crazy, never-a-dull-moment family! We call it our "chaotic bliss". I live for connection with others.
I have experienced many obstacles in my life for which I am grateful.
I believe, because of these obstacles, I am able to relate to, have compassion for, and connect to so many others.
I believe one of my gifts is to speak for and stand up for those who are unable to do it for themselves.
I believe everyone has a life story, that is super interesting, and I want to hear it!
When in a crowd of people, my husband is known to say, "Do you have to meet them all?"
And my answer is always, "YES!".

TO GET IN TOUCH:
Tiffany has a Facebook Support Group of Mum supporting Mums of Addicted or Mentally Ill Children.
It is a highly private, safe & confidential space.
You can find it at: https://www.facebook.com/groups/580246878791324/
and contact Tiffany at: https://www.facebook.com/tiffany.fastrauch
I hope you create an awesome day!
xx Miriam