Life On Purpose.
People are absolutely amazing and people's STORIES are even more amazing! I truly believe that if you spend enough time talking to just about anyone, you will uncover an incredible and inspiring story.
This story is part of 1 In A Million Project. You can find out more & help us reach our goal of connecting 1 million women while raising $1 million at www.1inamillionproject.org
Here is today's 1 In A Million Spotlight Interview:
I'm so pleased to introduce the lovely Steph Bartlett in today's '1 In A Million' Spotlight interview.
Steph and I connected as soon as we met & decided to keep meeting up regularly to keep one another accountable in our businesses (or sometimes we just have a good cathartic chat).
I absolutely love Steph's message and her approach to self-care.
I'm also super excited she's asked me to run some workshop sessions at her upcoming Self Care Retreat
(you can check out the details here: https://www.facebook.com/permalink.php?story_fbid=1244768088877480&id=1005571036130521&substory_index=0)
Please meet Steph:
TWEET THIS:   
THEN WATCH THIS: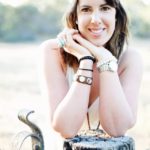 MORE ABOUT STEPH BARTLETT:
Steph is passionate about empowering women to create and live a healthy lifestyle so they can love and embrace who they are.
Through eating well, exercising, and practicing mindfulness, Steph helps people feel more comfortable in their own skin as a result of showing themselves love and respect through living a healthy lifestyle.
Steph is a qualified Personal Trainer, Yoga Teacher, Holistic Health Coach and Raw Food Chef. These skills combined are a wonderful combination to help people to get on track with their health and wellness and provide the perfect mix of skills for her wonderful Health & Wellness Retreats.
Contact details:
Facebook page: Steph Bartlett
Instagram: steph_bartlett_
Snapchat: stephcbart
Website: www.stephbartlett.com
Email: [hello@stephbartlett.com]
Have an awesome day!
xx Miriam