Sometimes you just want to know you're on the right track.
It's nice to get a little confirmation, a knowing smile, an encouraging wink or maybe some giant skywriting that says, "YES! Keep Going!!!"
Something subtle, but not so subtle that you miss it.
When you're practicing deliberately creating your reality, when you're tapping into all the knowledge of science and spirituality your heart and head have managed to access AND you're starting to apply it – more and more consistently and bravely – there is STILL that little voice of doubt trying to derail you.
That little voice of doubt is the voice of your old patterns of thought & belief gasping for breath, trying with one last struggle to survive. After all, they think they've been keeping you safe – in fact – they have been keeping you safe – on the basis of the past, of a handful of experiences and some scary stuff you were told that you took on without thinking about it too much.
Those patterns don't serve you anymore. You're ready to move on from the past & create new, more fun, more inspiring, LIBERATING patterns that take you into exciting new territory.
Moving on and rewiring your patterns is a PROCESS. There is a transition period that takes you from running on old automatic patterns & habits to a point where you've installed new habits & patterns of thought including the one where you believe that you can actually do all this – easily!
Getting through this transition period without allowing yourself to be derailed is super important.
At the moment, I'm focusing on creating something BIG and specific – something that is a stretch to my old way of thinking of what's possible & probable. I'm practicing new techniques to help me create a new state of being that attracts it all even quicker.
(Don't worry – I will share these with you at The Thoughts Become Things Experience once the guinea pig – me – has survived the experiment OK)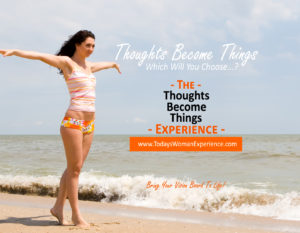 INCIDENTALLY!
As I post this it is the FINAL DAY to get yourself a big fat $50 OFF your seat at that event!
You can CLICK HERE to register now.
So anyway… to help me stay on track with this process, this morning I asked the Universe to surprise and delight me each day along the way in ways that are unmistakably 'deliberate creation' – things that are unexpected & just really cool.
Later in the morning, I pulled up outside our the Central Market – and realised for some reason I'd ended up on the wrong side and another street that I usually avoid as it's congested and hard to get a carpark.
I said to my daughter, "Ok – that must mean there's a perfect park here for us" and pulled over next to the Rockstar spot.
About 30 seconds later, two women walked up to the car parked right next to where I had double parked and pulled over, promptly got in and left 🙂
The Rockstar carpark was all ours – thank you very much. I LIKE IT, UNIVERSE!
Next, we decided we'd love a table in the sun to enjoy brunch before heading inside for the grocery shopping. Now that's a pretty tough ask at our Central Market on a busy, sunny Saturday morning – even bigger than the Rockstar carpark! That place is CHOCKERS and bursting with people at that time of the week and only about 0.05% of tables are outside within the vicinity of any sunshine.
Wondering if I should keep 'pushing my luck', I quickly remembered I wasn't the kind of person who thought like that anymore and headed over to stand right by the prized group of tables in the perfect sunny location. I took a deep breath and relaxed. About 30 seconds later, the people sitting at THE best table got up & cleared it for us 🙂
Yep – that's exactly what I had in mind when I asked for little signs…
Thanks Universe! 
…
HOW ABOUT YOU?
Do you ask the Universe for proof? Have you had days and moments like this? How do they FEEL?
Please tell me about it in the comments below!
xx Miriam