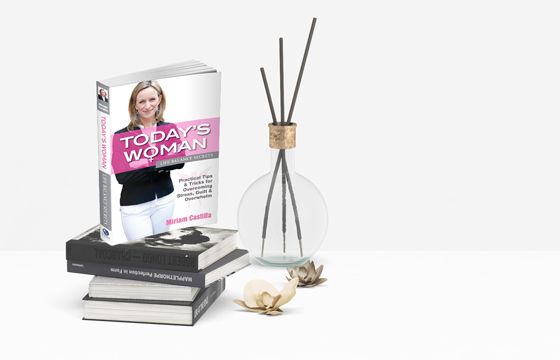 Today's Woman - Life Balance Secrets
Practical Tips & Tricks For Overcoming Stress, Guilt & Overwhelm. Author: Miriam Castilla
"Live The Life You Love & Love The Life You Live"
If you've ever felt like you've bitten off more than you can chew and wondered how on earth other women survive the work-life balance juggle, Today's Woman – Life Balance Secrets is the book for you!
Through a unique combination of powerful mindset strategies, everyday practical tips and inspiring real life stories, international author, speaker & award winning business owner Miriam Castilla shares the secrets to rediscovering your core values and creating the life of your dreams.
Today's Woman – Life Balance Secrets BOOK PLUS BONUS OFFER
What you receive:
Todays Secrets Paperback Book by Miriam Castilla (shipped worldwide)
Bonus Audio Set – Narrated By The Author
Downloadable Worksheet
"Live The Life You Love & Love The Life You Live"
JUST US$24.95 (Includes US$11.95 Shipping)
Inside You'll Discover:
The 7 Proven Steps To Help You Find Those Extra Hours In The Day
The Secret To Saying 'No' – Guilt-Free!
How To Turn Your Partner Into A Happy, Sexy Support Machine
3 Simple Steps To Rediscover Your Purpose & Passion
The Golden Rules For Ensuring You Get Time To Sit & Smell The Roses
3 Powerful Strategies To Tap Your Secret Energy Vault
The 5 Key Mindset Strategies To Sky Rocket Your Success
POSTAGE IS TO AUSTRALIA, USA, CANADA & EUROPE
For all other countries,  please ask for a shipping quote before ordering.
Kind Words From Beautiful Readers
I am currently reading your book … and I'm laughing, then sobbing.  Your book has entered my life at the right time, thank you for giving me the inspiration to never give up & dream big!  
ANNA FANTASIA
TOUCHED MY SOUL
SHONAH BELVEDERE
This book gives me great comfort and has encouraged me to invest some precious time in myself.  I hope it creates a 'domino effect' for all women to do the same!
KELLY BAKER-JAMIESON, TELSTRA BUSINESS WOMAN OF THE YEAR SA 2011
HELPED ME NAVIGATE MY WAY WORKING OUT WHAT I TRULY WANT
CASSANDRA HARTEY
I started reading it & didn't stop 'til I finished the whole book….. It all just hit home. 
Thank you Miriam – it's truly an inspiring book.
BELLA PRIMADONNA
ANOTHER WAY TO FEEL FULFILLED, HEALED & HAPPY
KATHRYN ERIKSEN
Hi Miriam, As you can imagine, I've read a sh#tload of books. As Charlie Jones said: 'You'll be the same person in 5 years except for the people you meet and the books you read.' Read the book on the weekend – it's BLOODY GREAT!!!!
KEV GROVER