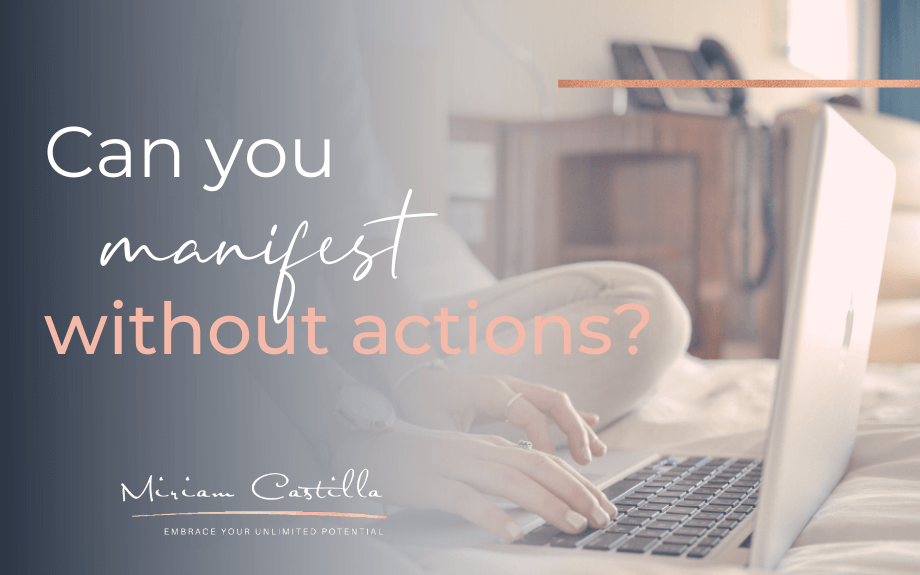 Law of Attraction critics will say, "You can't just sit on a mountaintop and meditate and wait for it to rain money"
But can you manifest with action?
Or at least, without action that feels like work?

You absolutely can!
Because yes, you need to take action, but the right KIND of action. And when you take the right kind of action – it does not feel at all like hard – let alone like hard work!

So in this episode, we'll answer the questions "Can you manifest without action?" but even better than that:

We'll talk about what kind of action you SHOULD be taking – and what kind of action is a total waste of your time and energy.

Like me, you've probably been applying Law of Attraction and doing all the things.

I know I did everything – all the Law of Attraction things and (just to be on the safe side) –  all the work things as well.

I worked hard and long hours. It all got really exhausting and disheartening because I was doing all this Law of Attraction stuff, but I was still burning myself out!

It wasn't until much further down the track when I figured it out that, yes, there's some action you need to take, but you've gotta be smart enough to know what kind of action is productive and what kind of action is counterproductive. Because most of the actions we take are a total waste of time and energy.

And when I figured out this seemingly fine – but actually massive difference between the different types of action, everything changed. Yes, I was still DOING things, but it didn't feel like I was working. And it certainly didn't feel like I was working hard! My income really took off and I would have my biggest income days & months when I wasn't working AT ALL.

I still remember having a record $31,500 week without looking at my business at all. I wasn't thinking about it and I didn't even check my phone. In fact, I had my feet dangling in a pool in Bali at the time!

If this sounds like a plan you'd like to get in on, then let's break this down for you. Let's talk about the difference between the kind of action that leverages Law of Attraction versus the kind of action that's counterproductive and a total waste of time and energy.

First, let's talk about the innate problem people have trying to figure this out:

And that is that we equate 'taking action' with 'working'. We take certain actions to achieve a direct desired result.

Cause and Effect.

But when you're working with Law of Attraction, it's different, right!
You're actually looking to leverage the magic of the Universe, tap into synchronicities. And yes, you need to be a cooperative component to that, but the moment you get too involved and try to micromanage and force the process, you're actually getting in the way and are stopping that effortless flow of manifestation.

Because you always get what you EXPECT. And when you get too involved and take all this action, it shows that you only expect to get things that are a direct line of sight to your actions.
You're cutting the Universe out of the equation and taking over – shutting yourself off from the magic.
The other issue with getting way too involved and taking action that is more 'work' oriented is that you're bringing an energy of fear and worry to what you're doing.

"Ooh, I just better do this ONE extra thing to make sure it all works out." Sound familiar?

And when you bring that energy of fear and worry, you're sending out a vibrational message of, "I'm not really expecting this to be easy or to even work out at all."
So in fact, you're manifesting it NOT happening or manifesting it being WAy TOO HARD.

So we definitely don't want to be doing that, but we do need to be taking SOME action because we need to put ourselves into the play, right? We need the Universe to be able to throw us those opportunities, nudges & great timing. So there is action to be taken.

(In a previous episode I covered the 6 steps to attracting a consistent 6-figure income. It'll help you get a better understanding of where the actions you take fit into the overall process and you can find that at the link below.)
Before I share the kinds of actions that absolutely help manifestation happen, I'd love to know:
Have you ever taken just some small little action that has resulted in some awesome manifestation?
What are your manifesting stories? Type me a comment below and let me know!

So what kind of action do you need to take? 
Well, you need to put yourself into the play, put yourself where the Universe can find you. So when you take action, take it with that spirit of "I'm putting myself in the play. I don't know exactly how this is all going to work out. I'm going to – as my mentor, Mike Dooley says – knock on lots of doors without knowing which one will open. But if I keep knocking, I know that one, two or more of them will open."

The other reason you need to take action and get some motion going is because that is how the Universe can guide you. Think of it like the GPS system in your car. It can't really do much for you if you're just sitting in your driveway. Until you get moving, it can't guide your next step, telling you whether to turn left or right. Your inner guidance that's always there for you is much the same.
As you move forward and then pay attention to the guidance – those intuitive nudges, instincts & hunches – you will be guided step by step towards your goal.

And the action that you THEN take as a result of that, is INSPIRED ACTION.
And that's going to feel totally different from the action of 'hard work to try and get what you want'. 
It's going to feel like fun, like child's play. That inspired action has a whole different energy. When you're taking inspired action, just knocking on doors to open possibilities and putting yourself into the play of life, it feels like fun. It feels easy. It feels effortless. It feels like exploration and an adventure, rather than working hard to force an outcome.
Now, a great way to get yourself into the right frame of mind for this is through regular meditation. And if you don't yet have it, I'd love to gift you one of mine. It's a hypnotic meditation called 'The Vibration of Abundance'.

You'll find the link in the 'Today's Freebie' section below.
Remember, gorgeous. It's time to embrace your unlimited potential and you are so ready to take that next step.

See you in the next episode!