Transform into the most prosperous & abundant version of you – for the practical woman who still believes in a little magic.
HAVE YOU EVER HAD THAT SENSE THAT YOU WERE MEANT FOR SOOOO MUCH MORE?
And not just in a "wouldn't it be nice to be rich" kinda way.
But that deep knowing that the life you crave isn't just some crazy fantasy.
That certainty that THE BUSINESS, THE INCOME & THE LIFESTYLE of your dreams is actually MEANT to be your reality one day.
The problem is the "one day" bit. Because you're working your little bippy off, and "one day" doesn't seem to be getting any closer.
It's almost as if there's a glass wall between the life you live and the one you know you're meant for.
Maybe you've dabbled with the Law of Attraction from time to time and you seem to have nailed the easy stuff like scoring the perfect car park right near the entrance. But when it comes to manifesting what you want for your business and your bank balance, it all seems so much harder.
That glass wall continues to stand between you and what you want because you only ever re-visit the Law of Attraction when you want to manifest something specific on your wishlist, or to get you out of a jam when the shit hits the fan.
And then you timidly approach it like Oliver with his empty bowl and whisper, "Please sir, can I have some more?"
And the Universe replies… "MORRRE?!?!…. Who dis??"
TRANSFORM YOUR LIFE WITH THE EFFECTOLOGY™ METHOD
If you want to shatter that glass wall for good and finally create profound change in your life, you can't keep treating these principles like an afterthought. Skimming the surface level will only bring surface level results. For deep and permanent change you need to apply these principles (you guessed it) deeply and permanently.
But luckily… that's a lot easier than you might expect!
What if I told you that you could have a clear blueprint and an arsenal of tools at your disposal to start to uplevel to the most prosperous, abundant & fulfilled version of yourself TODAY?
What if you could feel totally confident that you can not only create EXACTLY what you want for your life, your business and your income… but that it could actually be EASY and… wait for it… FUN!!
And what if you had the tools to not only open those floodgates, but clear strategies to handle everything that's about to pour in, without blowing it all like some over-enthusiastic lottery winner?
It's time to ditch the band-aid solutions and forget the Ra-Ra events where the only thing that lasts more than a few days afterwards is the lingering credit card debt you racked up to attend.
THE 'QUICK FIXES' DON'T CUT IT!
If you want to make that "one day" life your reality, you need a system that can pull it towards you on auto-pilot.
You need to gain total clarity & a deep sense of purpose – by connecting to what truly lights you up at the deepest level, so that nothing will get in your way or make you doubt what you truly want.
You need to become bullet proof to the distractions that keep pulling you off track – by immersing yourself in a simple, powerful and effective system until this 'manifesting what you want' thing becomes as second nature as brushing your teeth
You need to clear the resistance & limiting beliefs that are holding you back – by going deep into your unconscious to create permanent change so that you stop going '2 steps forward & 1 step back'
You need to clear any underlying fears of 'not being able to handle more' – by getting the confidence and tools to manage both your money & your time wisely so that you stop unconsciously blocking the flow and open those floodgates to receive what you want.
And that is exactly what you will get with The Effectology™ Method.
Kick-arse practical strategies, giving you the know-how & confidence to call in more of what you REALLY want in life, underpinned by scientific principles & deep spiritual truths to help you do it the easy way, mixed with a secret sprinkle of hypnosis to help you overcome obstacles, rewire your brain & change your life!
THE EFFECTOLOGY™ METHOD IS FOR YOU IF…
You want more of the good stuff – more money, more time, more joy and you're ready to commit to a program that will finally make it happen.
You already have your own business or you're dreaming of creating one.
You're familiar with Law of Attraction and understand that we are the creators of our lives, but you need to figure out HOW it all works so you can and manifest a lot more than just fantastic car parks!
You feel your spiritual side calling you, but at the same time you're highly practical so you're not interested in a bunch of fluff and BS without any practical strategies.
You need a system that you can easily integrate into your everyday life so that you can attract what you want on auto-pilot without adding another 1,000 things to your to-do list.
You recognise that the odd seminar or workshop ain't gonna cut it and that if you truly want to create abundance in your life, you need to fully immerse yourself in the process until it becomes second nature.
You care about your family but you realise it's time to fill your OWN cup first to be the best woman you can be.
You want to make sure that all those grand plans for your biz success actually become a reality.
You're ready to step up, kick-arse and find out just how incredible life can be when you create it YOUR way.
Doors Currently Closed.
Join the waiting list to access special pre-launch offers for the next round:
Your Guide through this powerful 6 month program is Miriam Castilla, creator of The Effectology™ Method & The Effectology™ Manifesting Method.
Miriam Castilla is the Author of "Today's Woman – Life Balance Secrets", an International Speaker, certified Infinite Possibilities Trainer & Evolve NLP, Timeline & Hypnotherapy Practitioner.
As an expert in the workings of the Unconscious Mind, Miriam guides women to create and manifest an incredibly rewarding, fulfilling, balanced & prosperous life, showing them that they truly can have it all.
Miriam has been personally trained by & continues to work with Mike Dooley, author of Notes From The Universe, multiple NY Times Bestselling Author and one of the teachers featured in The Secret.
Miriam's work sits at the powerful intersection of Science, Spirituality and Practicality.
She goes beyond simply showing you how to create a life with more money and more time. As an ex-Engineer & qualified Finance Adviser (and having gone from broke, single mum of two young children to award-winning business owner), she also provides you with practical tools and the confidence you need to manage your newfound abundance wisely.
This is the unique offering that is The Effectology Method – highly effective, practical strategies deeply rooted in spiritual truths, which guide you to consciously evolve to a new level of success and fulfillment in ALL areas of your life.
WHAT'S INCLUDED IN THE EFFECTOLOGY™ METHOD PROGRAM
Weekly Lessons, Custom Hypnosis Audios and LIVE Q&A Coaching Calls throughout the 6 month program
Plenty of time and space to integrate your learnings so you don't fall behind
Access to the Effectology Method Facebook Community for 24/7 support and guidance
Lifetime access to the modules and on-going access to attend the LIVE Q&A calls.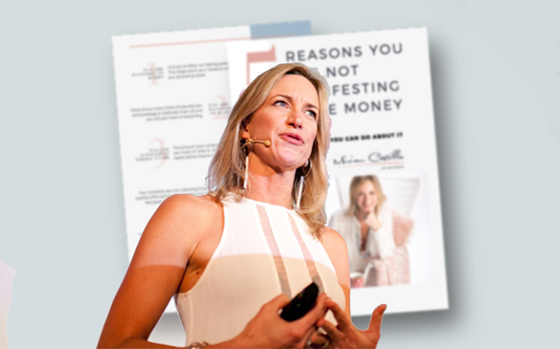 BONUS #1
Free ticket to attend the "Effectology Method Live Weekend Event". This transformational weekend workshop is a great opportunity to meet other students, deepen your understanding and get hands-on practice of all the strategies you've learnt in The Effectology Method.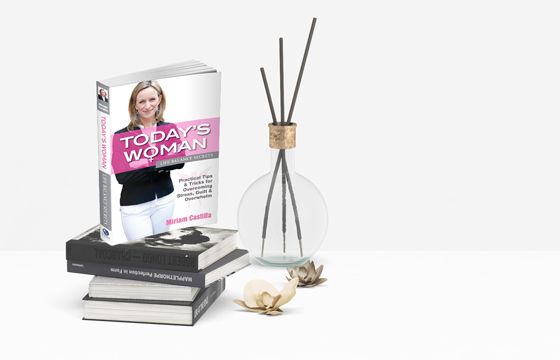 BONUS #2
A signed copy of Miriam's bestselling book 'Today's Woman – Life Balance Secrets' which will show you how to break out of the people pleasing cycle and start to create a balanced and happy life that truly fulfills you.
Doors Currently Closed.
Join the waiting list to access special pre-launch offers for the next round:
MODULE 1 - FUEL UP!
Get powerfully connected to what really makes you tick. Tap into your deepest passions and your sense of purpose like never before so that you can add serious fuel to your manifesting fire.
When you lay a strong foundation based on your deepest values, you will have the strength and resilience to keep moving forward with ease and grace, no matter what life throws at you.
MODULE 2 - PROGRAM THE UNIVERSE
Learn how to re-program your unconscious mind to connect to what you truly want and in turn, program the entire Universe to bring you all you need to fulfill your desire. You'll watch in amazement as all the opportunities you need start to unfold in front of you.
MODULE 3 - BECOME A SUPER MAGNET
Learn how to get in alignment with your vision & desires so they can easily flow into your experience. You'll learn what to do – and what NOT to do to become irresistibly magnetic to what you want. Immerse yourself in the powerful practices both myself & my students use every single day to create our reality and start to experience the same magic in your own life.

MODULE 4 - REMOVE OBSTACLES & SOAR
Get all the tools and support you need to sidestep any obstacles that threaten to derail your progress. Learn how to find the lessons and blessings in every situation so your challenges actually empower you, rather than weaken you.
MODULE 5 - MAKE MONEY FLOW & MULTIPLY
This module is all about turning the money making tap on full blast. You will learn the specific skills for easily attracting money and remove any limiting beliefs that are blocking your flow of abundance. You'll also learn practical strategies to wisely manage & multiply your newfound abundance so that it doesn't disappear as quickly as it arrived.
MODULE 6 - RELAX & GET EFFECTIVE
One of the most coveted resources in the universe is time. In this module you will gain a host of practical tools to help you manage the precious time you have and make it stretch so much further. Easily and effortlessly stay on top of the opportunities you've manifested while still making sure there's plenty of time to relax and enjoy the fruits of your labour.
WHAT STUDENTS SAY ABOUT THE PROGRAM:
Jen Lang: I'm so glad I did this program!!
Every module had gold in it.! It's true what they say that "You don't know what you don't know". Having those moments of being able to see life and your business relationship differently.. you can't put a price on that, seriously.
I wouldn't just get up for any program at 4am, so that tells you a lot.
Robyn Williams: Miriam has changed my life.
I've changed and the world around me has changed. My relationship have changed.. the little things have changed.. I'm doing so much better financially.. I'm doing so much better emotionally.
And the best thing of all is that I get to keep coming back and doing this!
Trish Everett: A huge change for my business
I was wondering if I really need this and I have learnt so much more!
It's just so much more embedded in my life now … and things are shifting.
People are coming to me, which is a huge change for my business
If you sign on, I highly recommend it.. you will LOVE it, it's so good. I hope you do!
The goals were there but achieving them was a hard slog and I knew there was something holding me back. I didn't even know why or what was going on with me.
Something had to change.
After Miriam's magic, everything changed.
My business has gone to a level that I was dreaming of and growing….I can feel there are no limits, it's booming! I am receiving love, help when I need it because I am finally OK with asking and receiving. I am receiving money for my profession and have let go of all those old beliefs around that! I have never been so clear in my life.
But what's profound and what I am so grateful for, is that I am finally whole.
Life is so sweet. I am pinching myself.
This Shit Works! 🙂
Miriam gave me the skills to make every day better & to appreciate all that I have!
The biggest shift has definitely been understanding a lot more of who I am and allowing myself to dive deep into all that… accepting a sense of responsibility…
I'm owning the fact that I'm absolutely the creator.
The understanding of internal vs external has dramatically changed this year.. I'm much definitely less reactive than I have been.
Life now is definitely a lot more relaxed – a lot more flow.
As I came to understand the power of my thoughts… that's really shifted how I do business. Essentially it's also grown into its own magnificent mountain of a business.
At the start of the year I was pushing too hard, trying to force it. Now it's a journey that I'm enjoying and excited about when I wake up in the morning. And that's allowed me to grow a lot quicker.
"…tools which are life changing…. I've left a job I don't like…. people seem to be bringing me flowers all the time.. and there's a lot of money in my bank account!"
Leila Davis
Where do I start? I hesitated about joining because of the length of the program but now that I'm in, I don't want it to stop because it's sooo good!
I feel way more abundance and way more joy and like a more relaxed and joyful mum.
If you'd like to achieve more in your day with more ease… if you want to embrace Law of Attraction and let it work in favour of you and let the Universe back you up.. And learn the steps to get there… and also be inspired with others in that connection, this program is for you.
"I've got so many skills and abilities that I never knew I had. Now I know how to BE what I want to be. With this, you're investing in YOU. Nobody can take it back, it doesn't run out or expire, it's priceless." Carrie Whitfield
WOW I am transforming! Miriam you have planted the seed and my life is changed thank you! I now see the world through bright and warm glasses….I now have gratitude for the small blessings the everyday occurrences and I am not in limbo feeling there is something I should could or would do I just am and that is enough…. you can imagine my joy and surprise when yesterday at my daughters 9th birthday she impromptu announced with no encouragement or fore planning,' we are now going to do meditation'…..something has changed in me and perhaps now in her….to be able to give her some tools that I learnt for my daughters to grow up knowing they are enough… I cannot express the power in that feeling xxx mwah mwah mwah I hope you all get to know you are enough too because when you believe it, the weight of the world is gone xxxx
Doors Currently Closed.
Join the waiting list to access special pre-launch offers for the next round:
Satisfaction Guarantee, Terms & Conditions
The terms and conditions for The Effectology Method Program are simple.
YouR 30 Day 'Over The Moon or Your Money Back' Guarantee:
If for any reason, you decide this program is not for you after all, simply email admin[@]miriamcastilla.com (just take out the brackets) within 30 days of original purchase to request a full refund. No awkward questions asked 🙂
Please note this is a STRICT 30 day policy. Emails requesting a refund must be received no later than Day 30, with day of initial registration being Day 1.
Late/Missed Instalment Payments:
Should an instalment be missed, our payment gateway will automatically try again after 2-5 business days. If any payment remains outstanding for more than 7 business days, your membership and program access may be cancelled and all monies paid to date forfeited. Please contact us to discuss if you have issues meeting your payment obligations. We'll gladly work with you to resolve the issue so we can keep you in the program. We want you to prosper and effortlessly meet ALL your financial obligations. Consideration of, agreement to and terms & conditions of any alternative payment arrangements made are solely at our discretion.
If you have any questions about this program or the terms & conditions, please don't hesitate to get in touch.