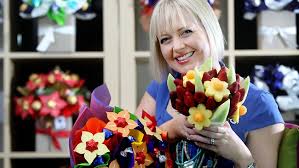 I recently had the pleasure of interviewing my good friend Kellie Baker-Jamieson.
(You may know her as the Founder of Edible Blooms)  The interview was part of the New Venture Institute's 'Entrepreneurs in Conversation' series where we interview amazing entrepreneurs who happily share their story so others can be inspired, learn & maybe avoid some of the mistakes they made.
Kellie started her business with $20,000 personal funds and stars in her eyes, opening 3 retail stores and a thriving online store within her first 12 months while still working 4 days a week in a  Consulting role.
Never afraid of taking a chance or personally walking the streets of Sydney to hand out leaflets, her enthusiasm and drive has created an amazing success story and unmistakable brand identity.
For each of the past 10 years, Edible Blooms has enjoyed phenomenal growth, been crowned with a prestigious Telstra Business Award while Kellie herself took out Business Woman of The Year.
The journey is by no means over, in fact – it seems it's only just begun..
Join me for a Conversation with Kellie Baker-Jamieson & let's find out: