You're drowning in a sea of overwhelm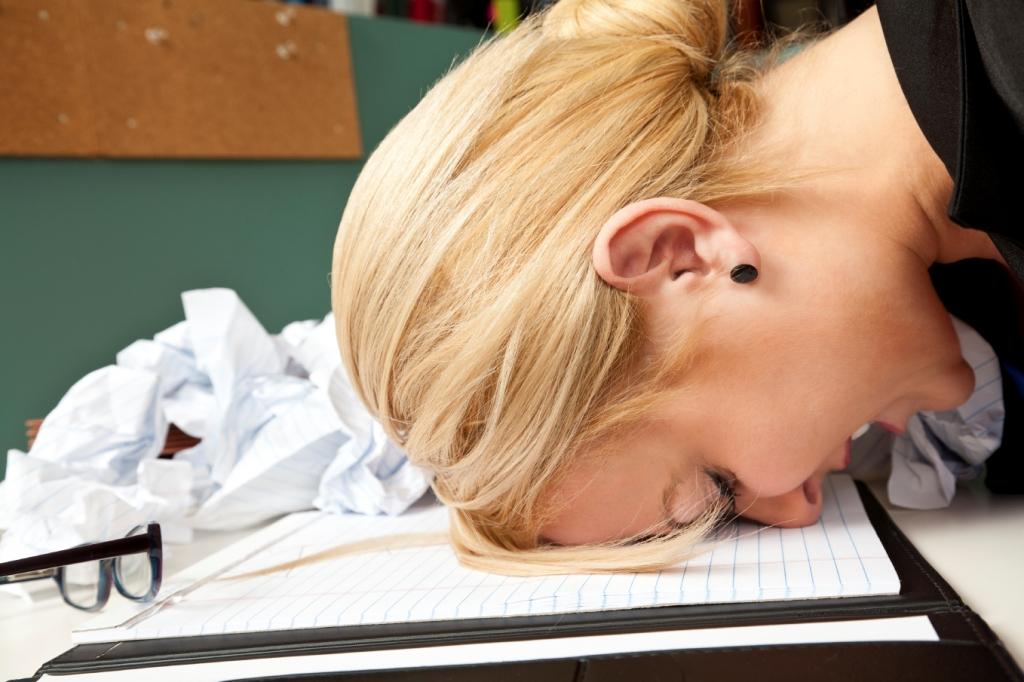 It's scary, stressful and downright disheartening.
You're not even sure what the problem is, but lately you seem stuck on a treadmill, feeling frazzled, stressed out, guilty and making ZERO progress.
As passionate and excited as you once were about your business, now you're just afraid it won't ever happen – that maybe you're just not cut out for it.
And meanwhile, this is costing you both time and money because your business isn't moving forward. In fact, it's probably going backwards.
What is the cost of all this lack of progress, lost time, lost business, slow business, NO business or disappointed customers?
What about the cost to your health, your self esteem or your relationship?
You really need this to fix this – and FAST!
It's time to get your life back under control – and your business moving forward! And the sooner the better – because you've wasted enough time, right?
Imagine if in 30 days time you could be moving forward with absolute CLARITY and FOCUS, enjoying a relaxed sense of SATISFACTION and building unstoppable and effortless MOMENTUM.
Would it change your life forever if you could bust through this overwhelm and have a strategy in place to ensure you never wind up here again?
It Only Takes 3 Simple Steps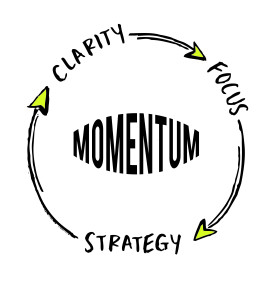 Introducing The Wheel of Momentum
CLARITY
Before you can regain focus, you need to achieve CLARITY on what's most important to you and WHY. This taps into an ancient part of your brain – the limbic brain which drives your behaviour and is fuelled only by emotion. That means you need to achieve CLARITY & a sense of PASSION to fill your tank with the fuel that will drive you.
FOCUS
Once you've achieved clarity, you need to know WHAT to FOCUS on. We want you focusing like a laser beam but first you'll need to become aware of what's been diffusing your focus. There are likely limiting beliefs and negative influences (or a chronic 'people pleasing' habit) that are making it impossible for you to know what to focus on first, so let's shine a light!
STRATEGY
Life is full of distractions. The people and conditions outside yourself will quickly pull you back into the tangled web of overwhelm if you're not prepared. You'll need a fail-safe strategy to ensure you stay firmly on track and never wind up drowning in the sea of overwhelm again.
Once you nail these 3 steps, the world is your oyster!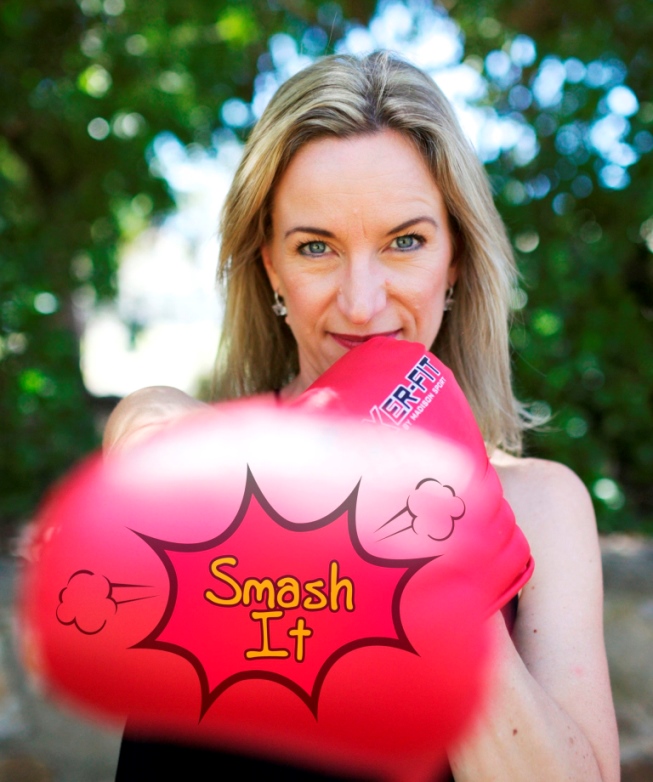 Can You Really Do It In Just 30 Days?
A 30 Day Effectology Bootcamp that will bust you out of overwhelm and catapult you into the sweet land of clarity, focus & effortless momentum.
Note: This is not a '1-size-fits-all' program and it's definitely NOT for everyone.
What Exactly Is 'Smash It'?
SMASH IT!  is a 30 Day Effectology Bootcamp that's personally tailored to you. I will (lovingly) kick your butt and support you to smash through overwhelm, get your life back under control and enjoy beautiful clarity and incredible focus.
THE RESULT?
You'll enjoy a calm sense of relief and be Master of Your Universe again, feeling excited, inspired and passionate about your business and raring to go, armed with tools to help you continue to build effortless momentum and stay on track for the long haul. You will finally be able to stop saying "There's not enough hours in the day!"
NOTE: This is definitely NOT about giving you MORE to do – it's about rolling up our sleeves, cleaning up the little mess you have going on there as quickly as we can, and setting you up with some strategies that will change your life forever. We'll have you back on track and happily back in control of your life as quickly as possible. There's no hype and no fluffing about. We'll make it as short, sharp & shiny as possible which is why I will need your commitment and cooperation so you can be on that road of effortless momentum, joyfully whistling 'I'm Every Woman' to yourself in just 30 days time (you can choose another song if you like, but I really think that one will work…)
At the end of our 30 days, you will:
have both your life and your business back under control – and know how to keep it that way!
be breathing a sigh of relief & able to relax a bit – even enjoy time out just for you – Guilt Free!
be feeling completely passionate and on fire about your business again
have absolute clarity on what is most important to you
have a clear roadmap unique to you to ensure you achieve your very own version of success
be feeling the momentum gathering under your feet
be praising sweet freedom!!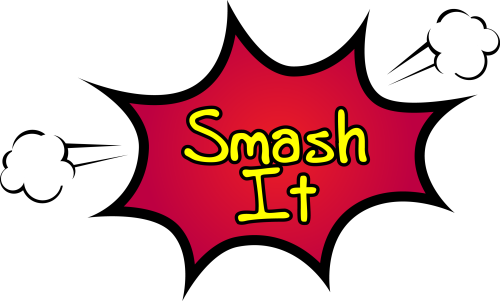 This is NOT the program for you if you just want to complain about how hard you work, how unfair life is and how others expect you to do it all but are completely unwilling to make changes and start putting yourself first.
However, if you're ready to kiss goodbye the things that are standing in the way of you living an authentic and fulfilled life, building the business you were born to build and joyfully sharing that unique and special gift you have to offer, then you will ADORE this program.
You Apply
Complete This Form  – it's the best way to tell me more about yourself and ensure we're a good fit.
We Say Hello
I'll ask you to talk me through where you're at and what you'd like to achieve. This will help you decide that this program is perfect for you.
The Kick-Off Session
We get started by defining your CORE DESIRED OUTCOME for the next 30 days – to ensure we'll be focusing on what's most important to you RIGHT NOW.
The Schedule
We catch up for short, sharp & shiny Power Chats with a schedule that works for you. These will all be done via Skype so there's no travel time involved – we have way too much to Power through during these calls.
It's during these that the butt kicking happens… With love, of course… 
Days 1-10: CLARITY
We define your core values, your very own version of success & your key priorities. This will give you clarity on what you REALLY want – and need – right now. We'll start fanning those passion flames so you can feel excited and inspired about your business – and your life – again.
Imagine actually knowing clearly what it is you really want & what is most important to you and being able to articulate it in a succinct and crystal clear manner.
You will know exactly what's most important to YOU and WHY.
This will put the fuel in your tank to help you smash through overwhelm.
Days 10-20: FOCUS
Time to clear the roadblocks as we figure out what's been standing in your way. We identify negative influences, limiting beliefs and any toxic guilt you've been carrying. You'll feel empowered, ready to take charge of your life and conquer the world again. Once you've become aware of what was sabotaging you, you'll never go back to those old destructive habits. The road is clear for you to move forward and focus on what's most important to YOU.
Ahhhhh… Sweet Relief! You now know WHAT you should be focusing on.
Days 20-30: STRATEGY
Armed with the right strategies, you can streamline your life to enjoy ease & effortless momentum. I'll help you implement tools and strategies to keep you on track for the long haul. You'll learn how to be more effective so you can enjoy some delicious and well deserved time out – while your business continues to gather momentum! You get to feel sane, optimistic and calmly in control of your life again.
After this, you will know exactly HOW to get everything done in a super effective way – so you have time to spare!
CELEBRATE!
It's time to pat yourself on the back and appreciate how far you've come in just 30 days. As a memento, I'll send you a signed copy of my bestselling book 'Today's Woman – Life Balance Secrets' – plus an extra copy for a friend so you can pay it forward.
I'll also let you know how you can get more support as you need it.
Sound Good?
Miriam Castilla has a true gift in nurturing and inspiring other women to be their best.
Miriam's holistic approach has seen the benefits from her mentoring spill over into ALL aspects of my life.  Her support has made it possible for me to develop a kick-ass new business and a more empowered me.  Thank You!! xxx
(I can only kick so many butts at one time)
And give overwhelm the boot!
Some FAQ's and Other Stuff
Is this an online course?
Nope! This is a 1:1 intensive bootcamp – just you and I working together for 30 days. We catch up by Skype as I lead you through each step.
I'm already snowed under - I don't have time for anything new!
That's exactly why you need this! Smash It! is designed for people who feel exactly like you are right now. It's a LIFELINE that will get you through this and catapult you forward with clarity & focus, so you can leave this nightmare of overwhelm behind for good. It is NOT about giving you more to do.
You do need to make the commitment to spend time on your calls with me. I will give you a little bit to do in between calls, but this is not about getting you to do MORE stuff – it's about getting you to do LESS so you can breathe again.
Together we'll start to implement some strategies that will progressively give you back more and more of your precious time and keep moving you along on the road to freedom.
What if I miss a session - can I make it up?
That's cool. I understand that things pop up. If we need to do a catch up session, we can arrange that.
I do need to know you're committed to this program because I KNOW it works and I want to make sure you get awesome results, For that reason, I draw the line after 60 days. If you've not managed to make it through the program by then, I'll need to make the spot available for someone else.
How much do I need to invest?
You can pay in 4 installments of $269 or save $79 by making a one-off payment of $997. Payment is required before your kick-off session.
I'm really keen to do this! What's next?
Easy. Click the APPLY NOW button and let me know a bit about you. I'll then contact you to say hello. If we both agree to work together, we'll set a date for your kick-off session and get stuck in!
And give overwhelm the boot!