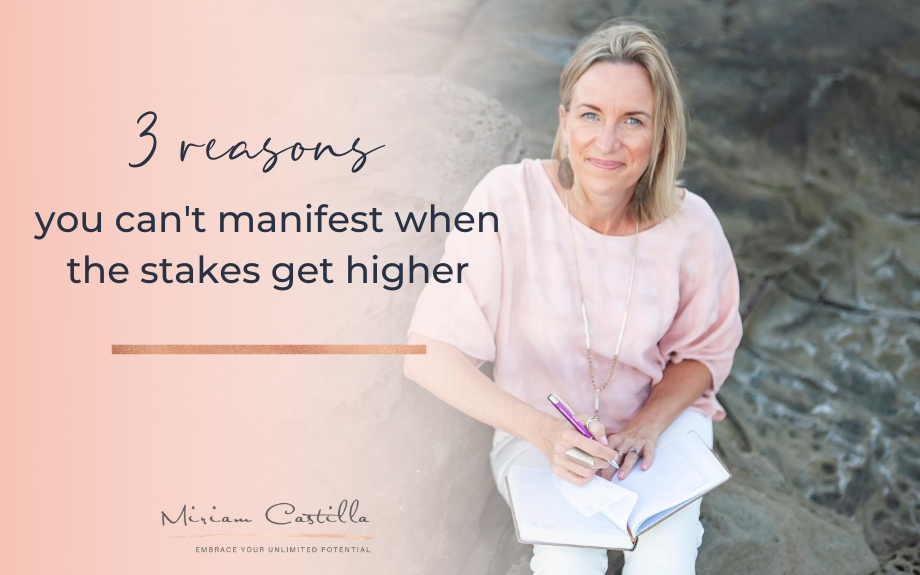 Hi, this is Miriam Castilla. Welcome to the Manifesting Playground for Soulful Women in Business – the place where you get to marry the magical with the practical so you can have more money and more time, the easy way – without all the extra hustle!
Why is it that when the stakes start getting higher, it becomes so much harder to manifest what you want?
Do you experience that?
I've been there myself. I had the car parking fairy giving me rockstar carparks – no matter where I was going. Fringe Festival in Adelaide, city overflowing with locals and tourists from all over the world… not a carpark to be found in the whole city, but mine was always there waiting, right outside the ticket box or the venue I was going to. Tickets to concerts, invitations to really cool parties and events, or even free holidays. I could manifest all sorts of things like that, but when it came to clients, income, or a more effortless flow to my business I was hitting a brick wall.
So, why is it so easy with the little stuff but when the stakes get higher, we hit that brick wall?
Let me tell you three reasons why:
Number one, we have this belief that we're raised with in hard work. That if you really want that tangible, serious outcome that gives you respect and acknowledgement from the people around you, you have to deserve it and have earnt it through your hard work. That is why in the Effectology Method Program we clear that old bullshit story with hypnosis, because that's just not true… unless you choose to believe it and then it becomes very, very true for you!
The second thing is that you don't have stability in your vibration. You're not energetically and vibrationally stable enough and that means that as soon as something means more to you, as soon as you're a little bit more attached to it, you start worrying and doubting and anytime something appears to not be going right you worry even more which throws your vibration off even more.
You don't have that stability, which means means your vibration is very susceptible to every little thing that's going on in your outside world.
You're not controlling life, life is controlling you.
The only way that you're going to get past that is with consistency.
Consistency of practice of stability in your alignment. That means you have to do those things that bring you into alignment and help you stay in alignment, CONSISTENTLY. Not just for a week, or month, or here and there, or when you remember, or when you really want something, but ALL THE TIME. In the beginning it'll be harder work because you're not used to it, and then once you get to a place where you actually have that beautiful flow and that becomes your new normal, it actually becomes very easy and there's no way you'd ever go back to not practicing and doing the things that keep you in alignment.
It's a little bit like brushing your teeth. You know, when you were little your mum probably had to force you to do it a few times, but now you wouldn't really want to leave the house without doing it. it would just feel weird and your whole day would feel off.
And the third one is a lack of faith. You don't really believe it. You don't really trust it. You kind of hope it does happen, but deep in your heart you didn't believe it. Let's be honest. That faith can only come from proving yourself right.
You really do need to get over that hurdle and prove yourself right so that you believe it. That means that you've gotta stick with it and the only way you can stick with it often enough and for long enough that you can prove yourself right so that that faith becomes innate, is through deep immersion.
That means that you dive into an environment where you practise this and you see the results consistently enough that you can then shift your doubt to faith. You do that for long enough that it sticks… that the scales tip.
This is why my Effectology Method Program is a 6-month program.
There are no silver bullets!
It's only through immersion and consistency and the strength of your desire, which is what's going to make you take that dive into the immersion and keep up the consistency, and if you have a support network around you like we do in the Effectology Method Program that helps you stay on track, that's fabulous, but it's only through the depth of your immersion, the level of your consistency, and the level of your desire that you can break through.
That is how you get to that place where you DO have faith, you ARE consistently stable enough in your vibration, and you no longer have all those old BS beliefs that keep holding you back.
The best consistent habit that I can recommend to you to help you stay in alignment and reach alignment every single day is meditation. There is a reason why every spiritual teacher on earth will suggest meditation, and will highly, highly recommend you meditate. it allows you to dive deeper within. It's a little moment of self immersion and it's the consistency of that practice that then helps you get those results that produce the faith.
So, if you haven't got access to my meditation library yet, please grab it now. It's totally free! There are 52 meditations, one for each week of the year, and they're hypnotic which means they really help you generate a certain state and achieve a certain outcome and connect you very deeply with your unconscious mind. grab that from the link in the description and get practicing!
Until I see you next time, keep on embracing your beautiful and utterly unlimited potential!
Bye!
Get access to my entire meditation library – including a meditation that helps you get better at meditating – FOR FREE!