Are you starting to resent your money… maybe just a little bit?
Do you find that you look at your banking, open your bills or just look at your finances, and feel as though you are really starting to hate your money? Like your money's letting you down? Like it's just not there for you?
I want to talk about that for a moment because that can really start to gather some serious momentum and take you down a very negative spiral.
The problem with it is that it then attracts even more of the same. So as you start focusing on the lack of money – even if it's just a momentary thing where maybe a client cancels and you'd already spent the money in your mind so suddenly you start going into this "lack" mentality – then Law of Attraction actually grabs a hold of that and starts to build more and more of the same.
You start to have more negative thoughts, more thoughts of "What's going on?", more thoughts of bills that are coming in and maybe not quite enough money to pay them, more ideas of things that you're having to go without because there's not enough money.
It just builds and builds and builds momentum, and as it does, Law of Attraction grabs a hold of that at all these different levels.
It starts with thoughts, but thoughts become things.
Law of Attraction grabs a hold of your thoughts and before you know it, you've started creating some actual things in your experience: more bills, more cancellations, more blah blah blah, that then proves to you that those thoughts were right.
When thoughts become things you will always prove yourself right. Whether you think you're abundant and there's plenty of money in your life, or whether you think there's never enough money and there's always another bill to gobble up whatever money came in.
As Henry Ford said, "Whether you think you can or you think you can't, either way you will be right."
Law of Attraction will prove you right. 
If you don't believe there is such a thing as Law of Attraction, Law of Attraction will prove you right in that instance as well! 
That's how it works. You have to understand that Law of Attraction grabs a hold of your thoughts which then start to build momentum and eventually the reality in our 3D form around us starts to follow suit.
But it starts with your thinking and your emotions. All of those gather momentum. So it's not just at the physical level, it is at all these different levels of your being that Law of Attraction will grab a hold of things.
So, if you're starting to resent your money, you need to understand that's going to keep building momentum and that's going to become a really strong pattern, and that pattern will also show up on the physical level in how you're interpreting and interacting with the money in your life.
What I invite you to do is this:
Take the Money Habit Archetype Quiz which will tell you whether your Money Habit Archetype – the way that you're interacting with your money on the physical plane – whether it's a Spender, Over-extender, or Accumulator pattern.=
Now, that is just the habit archetype. That is the presentation of how your relationship with money, the stories and the momentum you've got going in your thoughts that you've been thinking, which become the stories that you believe and you then live out.
That's the physical representation of those thoughts and stories. 
Your Money Habit Archetype is how it shows up in your day to day interaction with money and how you handle your money.
The best part is that after you do the quiz, I can then email you some really powerful questions specific to your Money Habit Archetype that will help you start to unravel some of those stories so that you can break that pattern and get out of that cycle that says, "See, there's never enough money," and has you start to hate your money.
By unravelling those old stories it means you can break that old cycle and start to build a really beautiful new cycle, where instead of resenting your money, you start to love and appreciate your money and build positive momentum around that.
As you keep building that positive momentum, you keep seeing more evidence of how wonderful your money is, how supportive it is, how much of it you have in your life, and how it always shows up in the perfect ways, at the perfect time, and it's there and it's got your back. As you build positive momentum on that, your whole reality will change.
It starts by noticing that these patterns are there, starting to look into what is going on there, "What is this Money Habit Archetype? Why am I resenting my money?" and then digging deeper to unravel the old stories that have been perpetuating that pattern.
So hop to it! Do the quiz! I'd love to find out what your Money Habit Archetype is and then I'd love to hear what you got out of it after you dive deeper into the specific questions on what's created that Money Habit Archetype for you – because that is where the absolute gold lies.
So please come back and share in the comments below because I'd love to hear about it!
Hop to it, do the quiz, do the questions. It's going to give you so much amazing insight!
Until next time, keep embracing your beautiful and unlimited potential.
Discover your Money Habit Archetype and the belief system that's driving it. Take the quiz: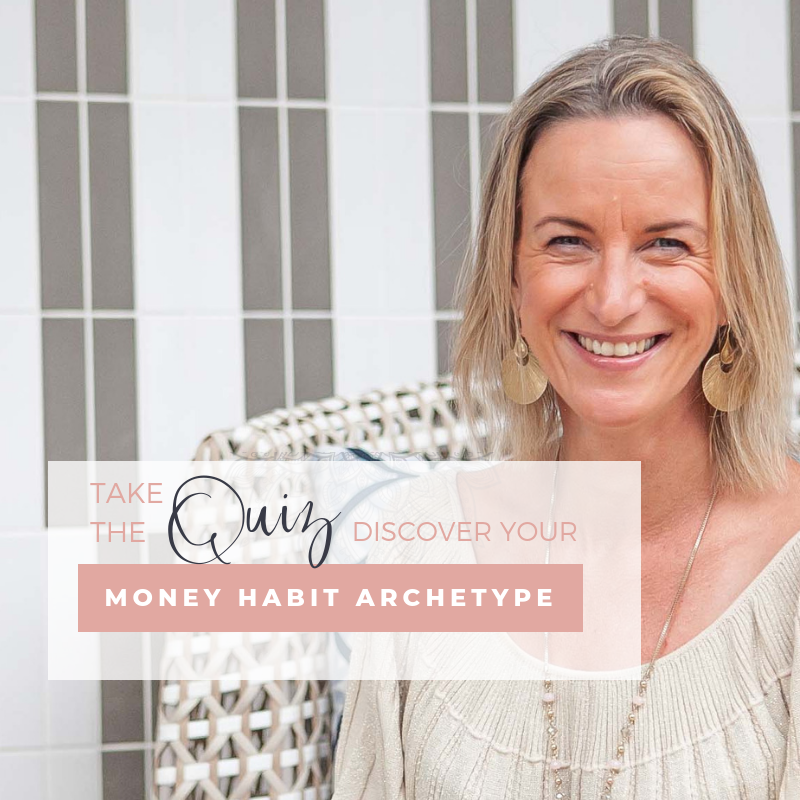 [Tweet "
How to manifest more money when money stops flowing #attractingmoney #manifestmoney #whenmoneystopsflowing #moneyblocks #abundance #manifesting

 

"]