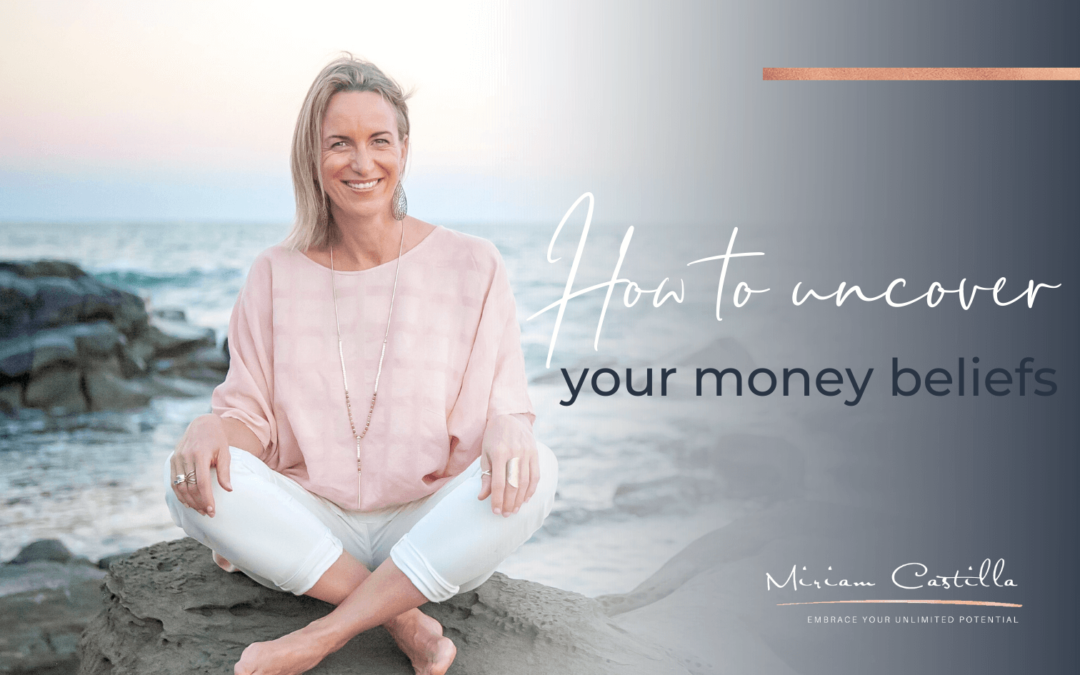 Today I'm going to share with you one of the simplest ways to uncover your money beliefs that are stopping you from attracting the money you want.
Do you have a feeling that maybe there's something going on under the hood that is causing money to be an issue in your life?
Have you already got money coming into your life but it seems to disappear again as quickly as it arrives, or money still feels like an issue – even though you actually have plenty?
Then you're probably starting to realise that there's some hidden money beliefs at the unconscious level that somehow somewhere there's something sabotaging your relationship with money. 
The thing is that 98% of everything we think, do, feel and say, is pretty much unconscious.
It's just automatic habit patterns that are running the show and you're busy getting on with your day thinking you're in charge, but really, you're only consciously in charge of about 2% of what goes on in your life. 
So if those unconscious habit patterns of thought, of feeling, of relating to money, of the way you approach life and what you are actually open to seeing in terms of opportunities, and ideas are not helpful and in alignment with how you do want your money relationship to be, then it's time to look under the hood.
It's time to uncover your money beliefs.
Because all that stuff is going on at the unconscious level, that's where we want to go to start figuring out what's going on and to start changing it. There's no point smashing away at the conscious level, if your unconscious is just busily getting on with the same old, same old – it'll just wear you out and frustrate you. 
All you need to do is use your unconscious mind to help you because it already has the answers. 
It knows what it's doing. It knows what's going on. And here's the thing about your unconscious mind, it's kind of like Google on steroids. It loves being asked the question, so all you need to do is ask it a question and it will go away, search and find all the answers, catalogue them, put them all together for you in a nice little pretty bullet point format and put a little bow on top. 
And the moment that you are in the right frame of mind to receive that information, it'll pop up. 
It will go to work for you and help you uncover your money beliefs – the good, the bad & the ugly.
What do I mean by being in the right frame of mind? Well, you know how sometimes you lose your car keys or you can't remember where you put them and you try and try and try to remember but you can't? 
Well you're in the wrong frame of mind to receive the information because you're focused on what's not there…
You're focused on the problem.
But then two hours later, you're in the shower washing your hair, and suddenly you go, "That's right, I put them in the kitchen in the cupboard when I was getting the tea out," and you remember because you're suddenly in the right frame of mind and open to receiving information so your unconscious says, "Oh finally, there's a crack," and pushes the information through. 
That's all you need to do. 
Ask really good questions such as "I wonder what I would need to believe to be creating this situation over and over again. And I wonder where that belief came from?"
Ask those sorts of questions and you can uncover your money beliefs. 
And when the answers come, it actually allows you to start unravelling some of that old patterning and some of those old stories that you're telling yourself. 
One of the easiest ways to get in the right frame of mind to receive the answers is to get on the vibration of abundance, where you're no longer focusing on that money as an issue.
To help you do that, I have this really great abundance vibration audio. It's a hypnotic meditation to get you in alignment with the vibration of abundance, which is a good thing no matter what you're doing. And you can grab it for free just by following this link: www.miriamcastilla.com/freeaudio
If you want to uncover your money beliefs that are creating money blocks and stopping you from fully tapping into Law of Attraction, then I highly recommend you check out my Money Block Buster System™ here: www.miriamcastilla.com/mbbs
So go grab yourself that, ask lots of good questions, and let's uncover your money beliefs that are stopping you from having the relationship with money that you really deserve and want to have. 
And until I see you next time, keep embracing your unlimited potential.
[Tweet "
How to uncover your money beliefs so you can clear your money blocks #moneyblocks #moneybeliefs #lawofattraction #howtouncovermoneybeliefs #clearyourmoneyblocks #limtingbeliefs #lawofattractionmeditation

"]