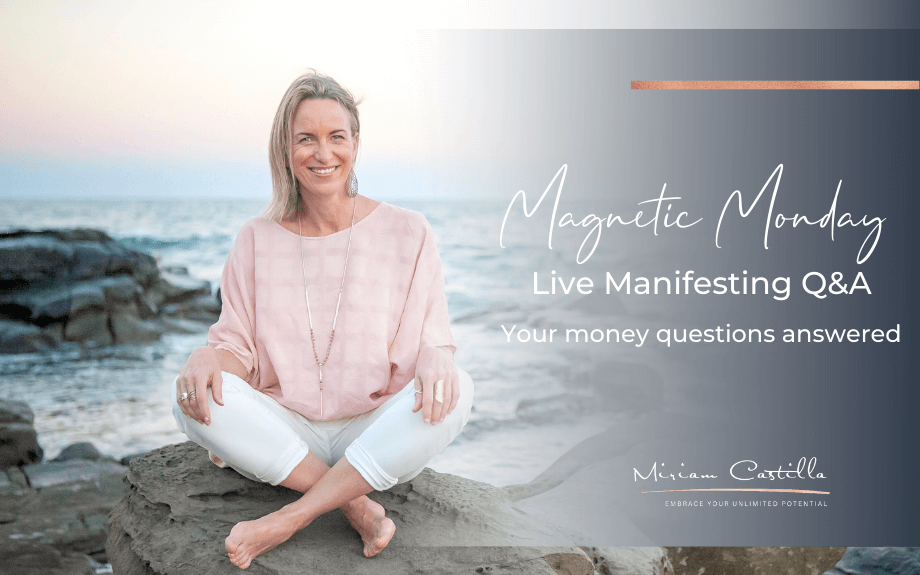 It's time for another Magnetic Monday call!
This is a live manifesting Q&A, where you can get answers to all your money questions – including how to change your money mindset, how to attract and manifest more money PLUS personal finance tips to help you gain money confidence so you never worry about money again.

To get an invite for the next Magnetic Monday Q&A so you can join us live and get answers to YOUR biggest money questions, just register at: www.miriamcastilla.com/magneticmonday
It's completely free!

Here's a summary of this episode so you can jump straight to the bit that resonates with you – or grab a cuppa and watch the lot!
SHOW NOTES:
6min – I struggle with the spending part, mostly. So my question is, does that kind of block the flow of the abundance through me? 
18min – How do you manage the transition of your own mindset with your nearest and dearest who are not in a positive mindset? 
26min – You say "Every dollar needs a job to do" and I'm having trouble finding jobs for all my money 
36min –  I worry there won't be enough money in 'old age'
41min – My money is a mess! I've been trying to give it jobs, but I don't know enough about investing and compound interest
Here are some highlights from the call:

Rene said:
"One habit around money I would like to change is being worried there's not enough in old age."
As we do get a little bit older and start realising that life is not infinite in this 3D reality that we're in, we do start thinking about that stuff. 
If that's something that's really bugging you, then I would recommend:
1. Look at the story
Look at what your parents modelled for you. Is that a story that you picked up because it's what your parents either told you or what actually happened to them? 
And just because it happened to them – or it's what they bought into – doesn't mean it has to be your story. 
We do the hypnotic story process in Magnetic Money, and that is a huge part of it:
Realizing that it's just a story – most of the time it's not even your story – and that you don't have to keep believing it. You can start telling a new story. 
That disconnects the emotional hook. 
So looking at where that story comes from that you're not going to be okay in old age is a very important step.

2. Make a plan
On a really practical level, have a plan.
When you have a plan, you don't have to worry so much anymore. 
In Australia, we have a great book called The Barefoot Investor. The author Scott Pape talks about this myth that you need a million dollars in the bank to retire comfortably. 
And it's just not true. 
We have the age pension, and you're still allowed to work part-time. And who wouldn't want to work a couple of days a week and do something that gets them out and engages them in the community? 
He breaks it all down and shows us that we don't actually need a million dollars in the bank! We on;y need a fraction of that!

Most people live in a state of fear trying to figure out where they're going to find a million dollars cash and a freehold house to retire with, so it's about 1 – shifting the mindset and 2 – actually having a clear and educated plan. 
So number one – what's the story you're telling yourself? And why do you think that that's got to be your story? 
And then marrying the magical with the practical, and putting a plan together, asking yourself what your retirement plan is, what your finances are looking like, and then what needs to be a priority.
Give every dollar a job to do and look at what your number one priority is right now.

It might be: 
Paying off credit card debt 

Paying off your home loan

Starting to put more money away into your superannuation

Starting to put some money away for investing
Knowing what that wealth creation plan is, which stage you're at, and actually knowing that you're underway, that really settles all those fears and nerves.
That's why to me, doing the practical side of money and not having it go hand in hand with the energetic and the mindset stuff is madness. 

And the same goes with the energetic and the mindset stuff. 
That's all very well, but if you don't walk the talk, then you're still just hoping for the best. And at worst, you're repressing all your fears and pretending everything's okay because you're not willing to step up to the plate and actually take care of your money. 
When you do take care of your money and you put that plan in place, then you can relax and spend a certain amount of money on yourself without worrying – because you know you've earned enough and that money is earmarked for having fun. And all the other stuff that your money needs to do is all being taken care of as well because every dollar has a job to do.
Some of those dollars have the job of helping you to achieve financial stability and financial freedom, and some of those dollars have the job of helping you take of yourself, feel great about yourself and enjoy life along the way. 
And that helps to raise your vibration, keep shifting your mindset around how abundant life is, and then allows MORE money to flow, which means there's going to be even more dollars available to grow your wealth. 
And it builds and builds and builds.

NEXT:
Kim asked:
"I give my money jobs to do – all the bills are paid and I started a business so that I could have that, but I don't know what to do with the leftover. There's not a lot leftover, but enough that I know I should be doing something with it. I don't know what to do with it."
In Magnetic Money, we set up a 'bucket system' where there are different buckets of money that serve separate purposes.
There is one bucket that pays the bills.
Another bucket is your fun bucket and discretionary spending (ie. groceries).
Then there's the wealth creation bucket. 
(Forget about the word 'compound' for a moment if it confuses you.) 
The wealth creation bucket is
everything
that has interest attached to it.
Things that charge you interest could be:
Credit card

Mortgage 

Car loan
But then on the flip side, there are things that you earn interest on such as investments and term deposits.
So that wealth creation bucket is everything that has interest involved.
What compound interest means is (and it doesn't really work like this but it keeps the numbers simple): If you have a credit card owing $1,000, and you're charged 20% interest per annum, in a year you're charged $200 interest. If you don't pay that down, then you're going to be charged interest on that $200 as well as the $1,000 that you already owe.
So if you don't pay that down, you're going to be charged interest on the interest and so on.
And that's what compound interest is – it's the interest making more debt babies.
It's like this family tree that's working against you.
What we want to do is make sure that some of your money is being pointed at that bucket.
This is a really great job to give some of your money, as it reduces that debt effect as quickly as possible, and tips the scales into starting to grow your wealth.
That's a super quick lesson on how we do it.
Want to join me LIVE for the next call?
I'd love to help you master your money and your mindset so you never feel like you need to worry about money again.

Just register here to receive your Magnetic Monday invitation: www.miriamcastilla.com/magneticmonday