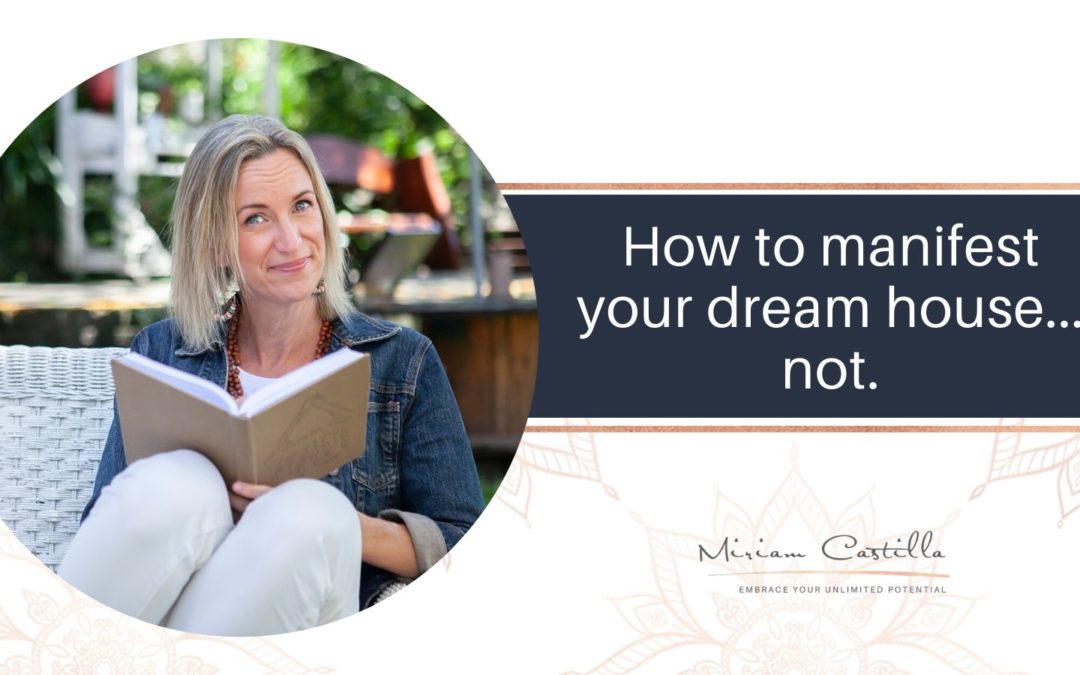 Today we're going to talk about why leaving your shoes in the cupboard of the display home won't help you manifest that home. 
Apparently, in display homes – especially those big lottery homes, they have to clear the cupboards of all the shoes people leave behind while they're inspecting it.
That's because people watched things like "The Secret" and decided that, "Okay. If I want to manifest this house and make it mine, I have to leave something of mine behind because I'm coming back. I need to leave my energy here, and I need to show the Universe that this is my house and I'm claiming it and I expect it to be mine."
It's kind of cute but it's not going to get you the house.
Simply leaving your shoes in the cupboard does not get you the house.
First of all, make sure you buy a ticket 😊
Here are some things you CAN do to help you manifest that house – or another house like it:
The very first and most important thing is that you get in vibrational alignment with the version of you who lives in that type of house.
Because just showing up in the house and going, "Oh my god! This is so amazing! I'd love to live here. This is how millionaires live." And then hiding your daggy pair of old Converse that you were going to throw away in the cupboard and thinking that's going to do the job…. 
That won't do the job.
The house and YOU can only come together when there is a vibrational match – when you are the kind of person who lives in that kind of house… who expects to live in that kind of house… when you think, speak, act and feel like the kind of person who lives in that kind of house.
Incidentally, things go a bit weird sometimes for people who win lotteries and so on.
There's a huge percentage of lottery winners – a massive percentage of lottery winners – who go broke and go back to where they were before and even further back within just a few short years.
The reason is they haven't upleveled THEMSELVES.
They haven't BECOME the person who has that level of money, who has that level of abundance, who lives in that kind of house.
So forget about leaving your shoes in the cupboard and doing stuff on the outside of you that are just cute token gestures.
If you don't shift who you fundamentally are… if you don't start acting, feeling, thinking and being that person who is a match, it's never ever going to happen.
You're just going to go through lots of pairs of shoes, and become a real pain in the bum to those poor real estate agents who have to clean out the cupboard every single week.
Instead, when you walk through that house (Great thing to do by the way! Absolutely do it.), visualise yourself living there.
FEEL what it feels like to be that kind of person and notice where there are some resistances in the mix.
Maybe there's the voice in the back of your head that says, "But… I couldn't even afford to pay the rates on this house." 
Notice these things and then make it your work to bridge the gap.
Bridge the vibrational gap.
Bridge the mindset gap.
And bridge the practical gap.
Because certain things require a certain level of habit and confidence with managing your finances around that level of income.
You need the practical skills and the practical habits down pat so you're ready to go.
You need to have your mindset polished up so that you don't end up blowing all the lottery winnings and ending up broke or back where you were.
And you need to become a vibrational match so that you can bring it into your experience in the first place.
So it's mindset, manifesting and the practical side of things. All of those need to become a match.
Remember that it's all about you actually becoming a match to the thing you desire.
It's not about leaving your shoes in the cupboard. That won't make the difference.
Now, if you want to make sure you get all the tweaks done that need to be tweaked within yourself so that you can become a match to all those things you desire – whether it's the dream house, the dream income, the dream business, the dream holiday (or whatever it is) – then grab today's freebie because it's the perfect thing to help you take the next step on your journey.
Grab the free Manifesting Money Training here: