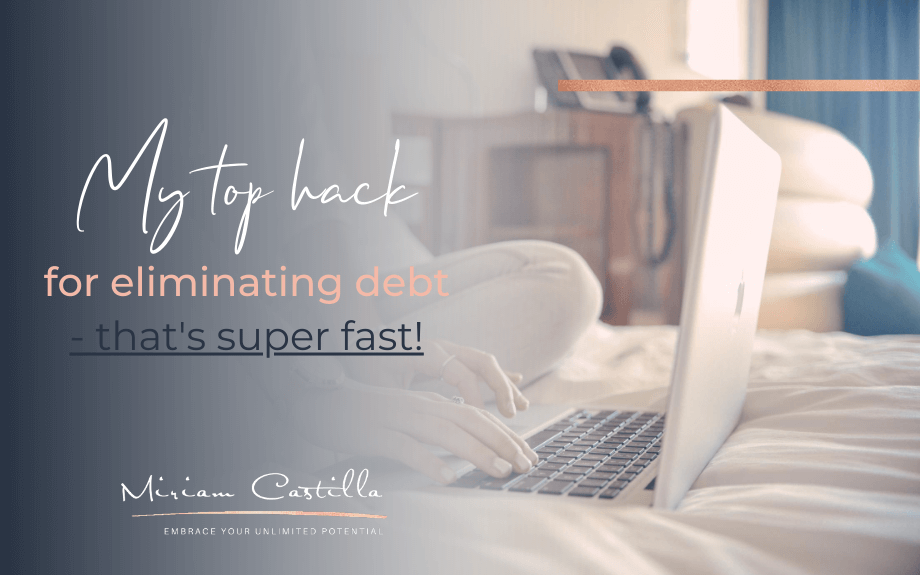 Today I'm going to share with you my number one hack for eliminating debt.
You'll want to stick around for this one.
I'm going to use a four-letter word… debt. 
Nobody likes that one. 
We've all got it – most of us anyway – and we don't like it, we want to get rid of that thing. 
Energetically, the more you try to get rid of something, the more you actually give it power, the more you reinforce it.
What you resist, persists. 
So you want to be careful. What you want to do is actually turn that around by implementing the really practical things that I'm about to share with you. 
Turn that around and actually change the energy.
Right now, your energy is probably one of 'I don't want any more debt!' which actually just keeps more debt coming at you.
Rember: What you resist persists and where attention goes energy flows. And everything is energy. 
We want to turn that energy around to 'Every day, I'm eliminating debt. Every day my debt is shrinking. It's shrinking faster and faster!', which is a completely different vibration. 
That's what we want. 
So how do you do that? 
OK, let me share my number one tip for eliminating debt with you: 
Most people, when they have multiple credit cards, car loans, etc., they just make the minimum payments on everything. Sometimes they pay a bit more here and there, but generally, they're just making the regular payments and trying to get on top of things. 
What you want to do is this: Get a piece of paper and list all of your debts. List what you owe, what the minimum monthly payment is (or weekly if that's how you operate), and list the interest rate if you can. 
Now from a pure finance advisory perspective – which by the way, I'm not giving you financial advice here – and from a number-crunching perspective, you would usually work on the one that has the highest interest rate first because it's costing you the most.
But having said that, everything is energy. 
If there's one that bothers you a whole lot more than the others, or if you're really overwhelmed by the feeling of debt, and just getting rid of one little thing would help, then go for another one. 
Sometimes it actually helps to get rid of the one that you owe the least on because you can do that quickly.
So choose one. 
If you're feeling okay, then definitely go with the one on the highest interest rate and watch that debt shrink into oblivion. 
Here's how you do it: 
✔️ Find a little bit of extra money somewhere. 
You can look at things like whether you have magazine subscriptions that you don't utilise, whether you subscribe to Spotify but in reality, it's no big deal if there's an odd ad. Or perhaps you spend a little bit more than you really need to on going out and grabbing a cup of coffee or lunch.
Just figure out if there's something that isn't necessary that you can save money on.
Ideally, that's the best way to do it. 
✔️ Then put that money towards that debt.
Think of this as REPLACING expenses. Swapping something not very useful with something that's very useful and is going to help you a lot. 
Put that amount of money – let's say it's $50 a week saved from removing unnecessary expenses – towards the debt you've decided on and keep doing that. 
✔️ Keep paying all the other ones at their minimum payments and just focus on THE one. 
Just focus on eliminating debt – but focus on ONE at a time.
✔️ When that one's all paid off, do a little happy dance. Give yourself a treat that you've decided on in advance. 
Ideally, your reward should cost about the same as one of those debt payments.
So if you were making a payment of $200 and have now paid off that debt, then put one of those payments towards a special little reward for yourself.
✔️ Then after that, don't just absorb that money and re-subscribe to the magazines and everything else. Use that extra money you've just freed up and choose the next debt to eliminate!
I call this tipping the buckets. 
You just want to then choose the next debt to eliminate. You've got that whole $200 now extra to put towards the next one. 
So again, choose it depending on what works best for you.
Pay off all of it. 
✔️ When you get that one completely gone, do the same thing. 
Treat yourself, celebrate, and then take the whole payment (so what you had on the very first one plus what you were paying on the second one, which you then stacked up) and then pay all of that towards the next one. 
What will actually happen is that it's going to gather momentum really, really quickly. 
The first one will be the slowest. The second one goes faster, and from there, it just goes bang, bang, bang, the dominoes will drop. 
It's a really cool technique. 
Celebrate, do lots of happy dances and really celebrate every time you eliminate a debt.
Remember: All is energy. All is vibration. You want to do the dance of abundance. 
And that is it.

See how simple eliminating debt can be – and how quickly it can happen once you get started & focus?

Let me know in the comments below if you've ever tried this & how it went!